Contact Lenses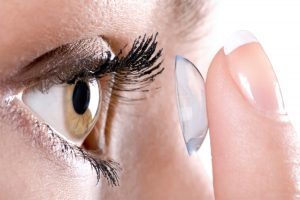 There are a number of reasons why you might prefer contact lenses to standard eyewear: a glasses-free look, hassle-free vision correction, wearing non-prescription sunwear and goggles, or the convenience of not having to worry about misplacing your glasses. If you have a high prescription or astigmatism, contact lenses may provide more enhanced vision correction than glasses. Today, you can even replace your bifocal glasses with multifocal contact lenses.
Our doctors can recommend the best contact lenses for you based on a complete eye examination and a review of your visual needs both at work and play. Since most people can wear more than one type of lens, it's important to know what the choices are and the advantages and disadvantages to each.
Soft Contact Lenses
These lenses are the most commonly worn style of contacts because of their superior comfort and convenience. For those who enjoy sporting events and physical activity, soft lenses are the most likely to stay on your eye without any trouble. They can provide correction for most prescriptions including astigmatism and presbyopia (bifocal). These contacts can even be prescribed in color!
Today, with the introduction of newer materials like silicone hydrogels, which allow more oxygen and breathability for the eye, patients find it easier than ever to wear soft lenses comfortably.
Gas-Permeable (GP) Lenses
Made of moderately flexible plastics, GP lenses offer sharp vision and correct most vision problems. Patients with corneal abnormalities, such as Keratoconus, are more likely prescribed GP lenses to help maintain comfort or correct their condition. Our doctors and staff are highly trained in handling and dispensing GP lenses.