Meet the Doctors and Staff
---
Dr. Victoria L. Mar, Optometrist        
Victoria Mar, OD, is a graduate of the University of California Berkeley School of Optometry. With over 25 years of experience and a genuine passion for her field, Dr. Mar has gained a respectfully large patient base in the Southern Las Vegas area. Dr. Mar is dedicated to every patient as if they were family, and she will not be satisfied until they are seeing clearly and feeling healthy.
---
Dr. Nissa Miranda, Optometrist
Nissa Miranda, OD, is a graduate of the Southern California College of Optometry. She has locked in many academic accomplishments within the past decade including a B.S. in Biology and minor in Managerial Economics at the University of California in Davis. Dr. Miranda was also co-chair at the SCCO's Department of Community Health, in which she was able to help those in need by providing vision screenings across the L.A. and Orange County areas. Patients enjoy her personable charisma and thorough care with every visit.
---
Sasha Dillon, Office Manager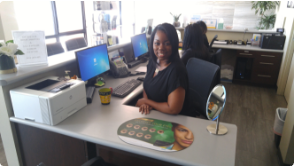 Sasha has been an amazing addition to our staff, coming on board in 2015 with nearly 20 years of optometric experience under her belt. Both patients and staff come to her for all the answers, and every time she delivers. With a large family herself, Sasha is more than used to juggling many responsibilities at once with a level of concern only family could offer.
---
Our Friendly Staff
"I have the best staff anyone could ask for…" – Victoria L. Mar, O.D.